Pennsylvania Jazz Collective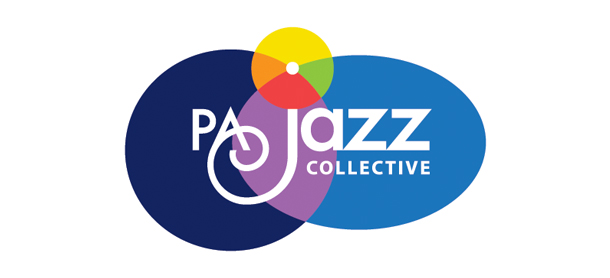 • BRAND IDENTITY • LOGO • WEBSITE
Pennsylvania Jazz Collective commissioned Sayre Design to upgrade their identity in anticipation of their first major fundraising event. Our challenge: to raise their public image to match the professionality of their members. To that end we designed their logo, website, invitation, poster, event program, and Facebook page.
The identity system really comes to life when when all of the pieces we designed are seen together. The photo elements, geometrical backgrounds, and angled shapes, all utilizing the color palette in different proportions and emphases, communicates something of the freshness and liveliness of jazz and the aspirations of this organization.
THE COLORS
Like jazz, the new identity is now interesting, engaging, and expressive. It features a sophisticated and nuanced color scheme; the predominantly cool colors are set off by an accent of hot magenta. The application of the color palette to a changing cast of geometrical background shapes adds surprise and flexibility—echoing the spontaneity of jazz.
THE TYPOGRAPHY
The typography is playful, suggesting the improvisational spirit of jazz. Whimsy is added by displacing the dot over the 'j'.
BEFORE AND AFTER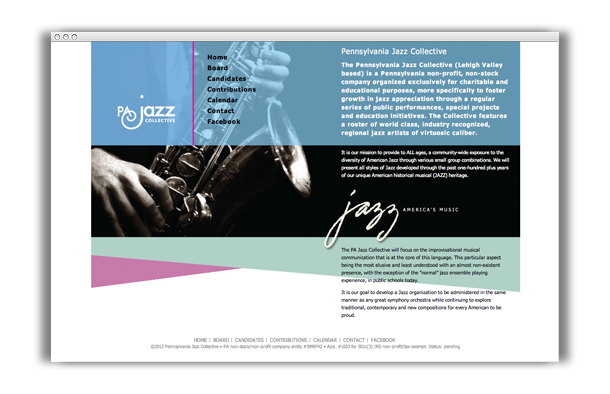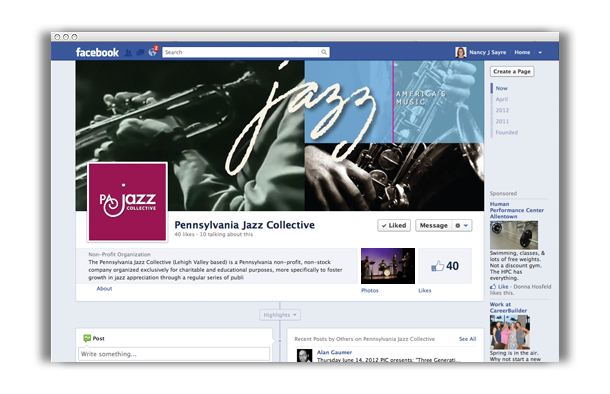 EVENT INVITATION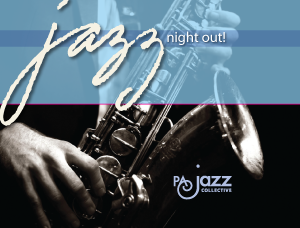 EVENT PROGRAM COVER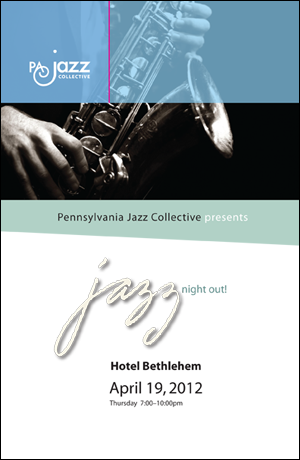 TESTIMONIAL
With your artistry, wisdom, skill, patience, endurance and strength, you created a visual image for the Pennsylvania Jazz Collective in less than one month. All this occurred in one ongoing huge, demanding, massive, stressful deadline! And it was done by you both in a spirit of cooperation, mutual support, liberal and gracious generosity and incredible calm. You are the "Dynamic Duo" with boundless goodwill, artistry and technological know-how! On behalf of the Board of directors of the Pennsylvania Jazz Collective, I extend a B "Thank you!"

—Marlene Gilley, PA Jazz Collective Board Member