Musselman Jewelers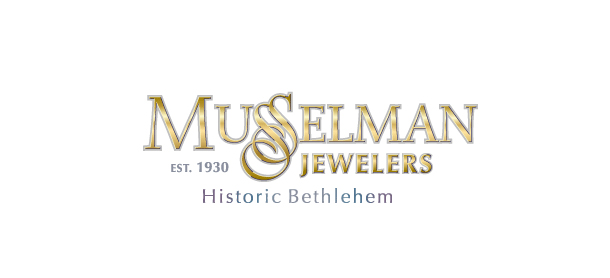 • NEW LOGO • REFINED TAGLINE • JEWELRY DESIGN (no kidding!)
Musselman Jewelers is a classic quality jeweler which needed their brand identity updated to reinforce their long-standing reputation as fine jewelers while extending a fresh presence in an evolving retail environment.
The new logo has a jewel-like quality and a nice period charm to it, recalling the store's founding in 1930 under the sway of the art deco era. The influence is seen here is the handling of the ornately intertwined double 's' letters. The rest of the look is appropriately formal and elegant.
Sayre Design also suggested to the store to take advantage of a new tagline "EST. 1930 Historic Bethlehem" which highlights the era and origination of their commercial roots. Simple enough, but effective and smart.
"WAIT! WE GET TO DESIGN SOME JEWELRY, TOO?"
The store also commissioned Sayre to design a centerpiece jewelry item based upon the 'Star of Bethlehem' motif popular with local customers as well as visitors to Historic Bethlehem, Pennsylvania. Wow! This is fun.