About Us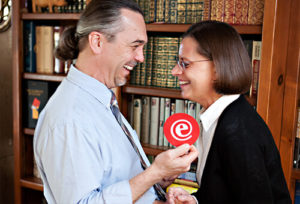 Michael and Nancy Sayre are a husband and wife team directing some of the best brand design efforts in our market. We design with knowledge, experience, skill, and creativity.
---
How does Sayre Design create brand identity?
Carefully, for starters. Meaning that we do it with care. With craft and attention. With over 35 years experience designing for a wide range of industries and organizations. With knowledge, skill, and creativity.
Our process enables us to do dependably superior work. Our workflow provides a framework developed and honed over all those years, fine-tuned project after project. Go back to the Porfolio to survey a sampling of that body of work. Go to the Case Studies page to examine a few of them in depth.
We trust our process to produce results. Beginning with a creative brief to describe what we are trying to accomplish, we ask lots of questions of you directly, then move to our own research. We explore industry orientation and competitive intelligence. We work out some precepts.
If we are naming, we hit the books. Our library is stocked with multi-language dictionaries, etymological and lingustic resources, word part and morpheme compendiums, and sometimes computer word generators. We develop our candidate concepts.
When we are designing visually we go next into "padded cell" mode where we explore lots and lots of possibilities to excavate the basic concepts and themes. Much of this remains for our own eyes only until we find our genuine ideas. We bring back these sketches and present them in preliminary form.
Our client provides feedback, we collaborate, we determine our direction. We go back to work and refine the concepts and narrow the field to a small selection of final candidates. We present again. We make final decisions and execute the work. We prepare all final files and deliverables, provide instructions and wrap up the project with a review and parting observations.
That's how we do it.
Michael —
Creative Director
Michael has been designing beautiful and effective brands for over 35 years. Educated at Cooper Union, he is influenced by a lifelong interest in jazz and the martial arts.
Nancy —
Business Director
Nancy handles project management and account service for our clients. She has been a successful entrepreneur for several businesses and has varied interests, including a degree in theology.
The Brady Bunch
Michael and Nancy live in Emmaus, PA, where they are inspired by their mutual interest in Byzantine iconography and the kaleidoscopic lives of their seven children and two three four five six seven eight grandchildren.
Experience
We've been designing logos and naming companies for over 35 years. You'll see from our portfolio that we've worked with businesses of many stripes: white collar, blue collar, for-profit, non-profit, start-ups, established businesses, local, regional, national, and international companies.
Other Services
For select clients, we provide web design and ongoing graphic design and consulting services for print, web, packaging, and signage.
Location
Emmaus, Pennsylvania, was declared one of the Top 100 Communities in America by U.S. News. Located in eastern Pennsylvania near Allentown in the beautiful Lehigh Valley, it is an easy one-hour commute north from Philadelphia or two hours west from New York City. Emmaus is convenient to Lehigh Valley International, Philadelphia International, and Newark International airports.
Testimonial
"The reaction we have gotten from everyone has been so positive, so far beyond my wildest expectations. I feel we presented you with many challenges. You created a new fresh image and logo, which is timeless. You hit the target perfectly."

Sean A. Boyle, President, Boyle Construction
"Both professionally and personally Sayre Design exceeded expectations. Truly a complete pleasure working with you!"

Terry Guire, Brevity at Work
Working with Sayre design was not only easy and enjoyable, but also allowed me to reflect on my work from a different perspective. The attention to detail throughout the design process was amazing. The creativity and language presented helped me view my work from an artistic perspective that I had not previously been able to do on my own. This deepened my understanding of my own work. As an engineer, complimenting my technical understanding with artistic and creative branding will provide for broader ideas moving forward. The process has inspired me to do my work better than ever.

David Delaine, Changineer™, The Collaborative Lab to Change Engineering Education
"Sayre Design built a simple and evocative logo for me which is successful for two reasons: First, it's at home anywhere it appears, whether painted on a sign, posted on a website or jotted on a cocktail napkin. Second, it sums up my story by merging my identity and my business."

Brett Stuckel, copywriter
"You hit a home run & the process was pleasant and seamless. I'm very proud of how Five Paths Yoga is represented. Thank you so much for everything."

Karen Klubertanz, Five Paths Yoga
"The ability of Sayre Design to hone in on the corporate identity, purpose and personality of their clients is almost magical in its simplicity and implementation. It becomes clear through working with them that it is not magic. It is the result of talent, experience, hard work and, for this day and age, an unmatched willingness and desire to learn about their clients so they can best represent what makes those businesses unique. As someone who has gone through this corporate branding process with Mike and Nancy, I can say that not only did they pinpoint exactly who I am, they actually helped me forge the identity and the message I want to relate to my own audience. But most of all I have to say it is a pure joy working with two wonderful people who enjoy what they do so much that it is really an inspiration to others."

Joe McDermott, McDermott Communications
"Thanks for all you do for us. You certainly have created a logo for K&S that is simple, effective, eye-catching, easily remembered – and a pleasure for me to show and use in marketing. The first time I wore the name badge to a Chamber of Commerce breakfast, I saw people's eyes reading the logo again, then again. I knew then and there that this logo was a winner."

Regina Sanders, Kriegman & Smith
"The Sayre Design approach to corporate identity is nothing short of phenomenal. Michael's skillful guidance and innovative thinking has taken us on a journey of self discovery and enabled us to craft a clear vision, mission, and a substance that forms our identity . . . I recommend this transforming experience to anyone who is passionate about their business!"

Alexander Pamphilis, President, Alexander Painting Inc.
"With your artistry, wisdom, skill, patience, endurance and strength, you created a visual image for the Pennsylvania Jazz Collective in less than one month. All this occurred in one ongoing huge, demanding, massive, stressful deadline! And it was done by you both in a spirit of cooperation, mutual support, liberal and gracious generosity and incredible calm. You are the "Dynamic Duo" with boundless goodwill, artistry and technological know-how! On behalf of the Board of directors of the Pennsylvania Jazz Collective, I extend a big 'Thank you!'"

Marlene Gilley, PA Jazz Collective Board Member
"I enjoyed working with the caring and creative professionals at Sayre Design. The challenge was to completely redesign my corporate identity and use it to create a unique and user-friendly Word Press website. Nancy and Michael accomplished this by diving deeply into dialog with me, examining my core business beliefs, and becoming acquainted with my constructive quirkiness. The result of their clever ingenuity represents me accurately and humorously, just as I like it."

Rita Guthrie, The Idea Lady, Open Door Public Relations